Introducing Guilford Veterinary Hospital
As a full-service AAHA-certified animal hospital, Guilford Veterinary Hospital is trusted to deliver exceptional veterinary services. Since 1953, we have prided ourselves on providing our patients with the most current medicine and advanced technology.
We know our pet owner clients trust us to do what's best for their pets, which is why we ensure accurate and timely diagnosis for each pet we treat. Our team is proud to serve pets and families throughout Guilford, CT, and the surrounding areas.
Our seven doctors have a combined total of over a hundred and fifty years of experience. During rounds, each of the patients and complex cases are discussed in detail, allowing each patient to have multiple doctors involved in their care. Our doctors are assisted by a caring support staff, including a team of highly skilled certified veterinary technicians (CVTs).
The cornerstone of our practice is preventative health care. Our patients benefit from collaboration between their owners and our professional team. We work hard to educate our clients in all aspects of health care, including vaccine protocols, pediatric care, dental health, behavior problems and individual geriatric care.
Our surgical suite rivals that of many human hospitals. Our anesthetized patients are closely monitored using continuous ECG, blood pressure and respiratory monitors as well as pulse oximetry. Anesthesia protocols are individualized for each patient to ensure the utmost safety.
We have voluntarily adopted the guidelines of the American Animal Hospital Association (AAHA) to ensure that we maintain the highest quality of veterinary care. We believe that we owe this to our patients and our clients.
The Guilford Veterinary Hospital was founded in August 1953 in a small home on Norton Avenue Guilford, CT, by Dr. Willard Daniels. Dr. Daniels grew up on a dairy farm in Middletown, CT. He treated mainly large farm animals, as well as the occasional small animal seen in his garage. In 1955, he built a hospital on our current site on Saw Mill Road. He continued to treat both farm animals and small animals until 1965 when he moved to the University of Connecticut in Storrs to accept a position as Extension Veterinarian and Professor of Pathology.
Read More
Dr. David Anderson joined the hospital in 1962 and became an owner in 1965. Dr. Ralph Schoemann joined the practice in 1965 but left shortly thereafter to serve a tour of duty with the Veterinary Corps of the United States Army. He returned to practice veterinary medicine in Guilford and became a partner in the practice in 1969. The hospital was enlarged and remodeled in 1973, when it became primarily a small animal hospital. GVH purchased the Branford Animal Hospital from Dr. Philip Gerlach in 1976 and it served as a GVH satellite until 1990. This satellite practice was then sold to Dr. Robert Schaper, who had been working at GVH as an associate veterinarian at the time.
Over the years, the practice continued to grow and thrive thanks to the hard work and dedication of the veterinarians and support staff. Currently, there are seven veterinarians at GVH. The GVH partners are Drs. DellaMonica, Soucy, and Pixton. Dr. Anthony DellaMonica and Dr. Anita Soucy joined the practice in 1994. Dr. Morna Pixton started in 1998. In 2007, Dr. Ralph Schoemann retired from GVH. Drs. DellaMonica, Soucy, and Pixton became partners. Dr. Deborah Ackles started in 1987, became a partner in 1989, and retired from GVH in 2018. Dr. Donald Mullen joined the practice in 1979 and became a partner in 1984. He retired as a partner in 2021. Dr. Dana Muir-Preston started in 2019 and Dr. Jacqueline Pino joined in 2019. Dr. Sarah Dale joined in 2021. Dr. Margaret Milano joined in 2022.
Our current GVH doctors are a diverse group of individuals from a wide variety of backgrounds who have been trained all over North America. They work together in the true spirit of a group practice, sharing their knowledge and skills to the benefit of each and every patient.
Dr. Anita Soucy, Kansas State University (1992)
Dr. Anthony DellaMonica, Tufts University (1993)
Dr. Morna Pixton, Cornell University (1998)
Dr. Dana Muir-Preston, Cornell University (2012)
Dr. Jacqueline Pino, Cornell University (2019)
Dr. Sarah Dale, Tufts University (2015)
Dr. Margaret Milano, Cornell University (2019)
It has always been the goal at GVH to provide the highest quality of medicine and care possible to our patients. In the early 1990s, we worked to achieve accreditation from the American Animal Hospital Association (AAHA). This organization sets standards for companion animal practices that are above and beyond state and federal standards. In 1993, we qualified for the highest level of accreditation and have maintained that level ever since.
As GVH continued to grow and expand we realized a need for more space – both for equipment and for the skilled staff needed to deliver high-quality medicine. In 2005, the hospital was completely redesigned, including the construction of two large additions and the addition of digital radiography. Our hospital was completed in 2006.
Dr. Anthony DellaMonica
Dr. DellaMonica is one of our three owners/partners at Guilford Veterinary Hospital. He received his undergraduate degree in Animal Science at Purdue University. He also attended the University of Bridgeport where he received his Bachelor of Science in Nursing.
Read More
After practicing as a registered nurse in intensive care and coronary care units and a cardiac catheterization laboratory for several years, he decided to pursue his lifelong goal of veterinary medicine. 
Dr. DellaMonica received his Doctorate of Veterinary Medicine from Tufts University in 1993, where he graduated with honors. Following one year of mixed animal practice, he joined the Guilford Veterinary Hospital in 1994. His professional interests include gastrointestinal endoscopy. Dr. DellaMonica and his wife Debra have been involved in breeding and exhibiting Schipperke dogs for many years. They have the honor of having a dog in the top 10 Schipperke breed rating for six consecutive years and have had several Best of Breed winners at the Westminster dog show. His other interests include fly-fishing.
Dr. Anita Soucy
Dr. Soucy is one of our three owner/partners at Guilford Veterinary Hospital. She graduated from Kansas State College of Veterinary Medicine in 1992. She completed an internship in small animal surgery at South Shore Veterinary Associates in South Weymouth, MA in 1993 and joined the staff of GVH in 1994. She enjoys all aspects of canine and feline medicine, and has a special interest in soft tissue surgery.
Read More
Dr. Soucy, a Connecticut native, was raised in the Hartford area and completed her undergraduate work at Uconn. She is currently a Guilford resident. In addition to her daughter, Hannah, who graduated from Vassar College in 2021, her family consists of two cats, and two Pembroke Welsh Corgis. Dr. Soucy enjoys coffee and quiet time on her front porch and taking both dogs on long hikes in the woods.
Dr. Morna Pixton
Dr. Pixton is one of our three owners/partners at Guilford Veterinary Hospital. She joined GVH as an associate in 1998 after graduating with honors from Cornell University's College of Veterinary Medicine.
Read More
 She became a partner in 2008. Dr. Pixton was born in Berkeley, CA, mostly raised in upstate NY, and graduated cum laude from Yale University, receiving a Bachelor of Art in English literature. Dr. Pixton enjoys all aspects of small animal medicine and surgery and has a special interest in animal behavior. Dr. Pixton lives in Guilford with her twin boys and their two cats and one dog. She spends her free time enjoying life with her children and pets, and loves to read, cook, garden, and especially hike.
Dr. Dana Muir
Dr. Dana Muir is originally from upstate New York. She received her BS in Animal Science from Cornell University's College of Agriculture and Life Sciences in 2007 and her MPS in Animal Science with a focus on Canine Hip Dysplasia from Cornell University's College of Agriculture and Life Sciences in 2009.
Read More
She graduated with her DVM from Cornell University's College of Veterinary Medicine in 2012. She practiced in upstate NY for 3 years and has continued to practice small animal medicine since moving to Connecticut in 2015.
Dr. Muir likes to build relationships with her clients and patients and enjoys doing house calls, as well as regular office calls. She is enthusiastic about continuing education courses to stay up-to-date on the latest recommendations in veterinary medicine and completed a certification in Veterinary Botanical Medicine through Curacore Vet in 2019. She also enjoys community outreach and general public education about pet care and common issues that can arise during a cat or dog's lifetime. In her off time, she enjoys cooking, exploring fun and beautiful places in Connecticut (and beyond!), and spending time with both her human and her canine family members.
Dr. Jacqueline Pino
Dr. Pino is originally from Long Island, NY. She received her Bachelor of Science from Cornell University and her Doctor of Veterinary Medicine degree from Cornell University of Veterinary Medicine in 2019.
Read More
She joined Guilford Veterinary Hospital in 2019. Becoming a veterinarian was Dr. Pino's lifelong dream, and she is proud to serve this community. She enjoys forming meaningful relationships with both patients and clients. Her special interests include dermatology, preventative medicine, and end-of-life care. In her free time, Dr. Pino enjoys indoor cycling and going for walks with her rescue dog, Reilly. She and her husband are happy to have settled down on the Connecticut shoreline.
Dr. Sarah Dale
Dr. Sarah Dale is originally from Massachusetts. She graduated from Bowdoin College in 2011 with a degree in Biochemistry. She then attended the Cummings School of Veterinary Medicine at Tufts University where she earned both her Doctor of Veterinary Medicine and Master of Public Health degree.
Read More
After graduation she moved to Philadelphia where she worked in small animal practice for four years, before moving to Connecticut in 2019. Dr. Dale enjoys reading, cooking shows, and hanging out with her tabby cat Georgiana.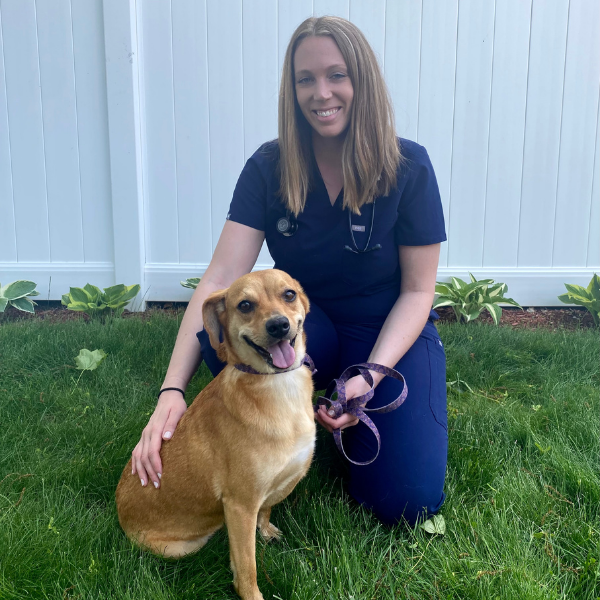 Dr. Margaret Milano
Dr. Maggie Milano is originally from Long Island, NY and graduated from SUNY Geneseo with degrees in Biology and English Literature. She then attended Cornell University College of Veterinary Medicine where she graduated with her Doctor of Veterinary Medicine degree in 2019.
Read More
After practicing at small animal general practices outside of Washington DC, and in Rhode Island, she is very excited to join the team at Guilford Veterinary Hospital. Dr. Milano is committed to providing quality and compassionate care for her patients, with special interests in preventative medicine and dentistry. She enjoys hiking and cooking in her spare time.
Rose Muolo-Carrano, CVT, Practice Manager
Rose has always had a love for animals and wanted to help them in any way possible. Before joining GVH, she owned her own dog grooming business for 6 years.
Read More
Rose started at Guilford Veterinary Hospital in 2000 as a veterinary technician. After becoming a Certified Veterinary Technician (CVT) in 2004, she focused on patient advocacy. She climbed her way up the GVH ladder by first becoming the supervisor for the veterinary assistants in 2014, then in 2015, she was promoted to technician supervisor. Rose became increasingly interested in the challenges of management and in 2016 she was offered the position of GVH's practice manager. In 2017, the partners of GVH nominated her for Veterinary Management Council of Connecticut Practice Manager of the Year – and she won.
Rose enjoys sharing her farm with her husband, 2 dogs, 1 cat, 2 horses, 2 goats, and a variety of ducks and chickens. She also enjoys making jewelry and is a key member of Wesleyan Potters in Middletown. She is a founding member of the Connecticut Veterinary Technician Association and sits on their board of directors.
Cindy Philippi, Client Liaison
Cindy pursued her first job at her hometown veterinary hospital when she was 16 years old. She attended UConn and after leaving college she worked at her first emergency veterinary clinic in Danbury. That is where she found her love for emergency medicine.
Read More
Cindy became a certified veterinary technician in 1996 and then went on to become a certified technician in emergency medicine in 1999 while working at Central Hospital for Veterinary Medicine. Cindy joined the team at Guilford Veterinary Hospital in 2001, in addition to working part-time for a board-certified surgeon. She became the technician supervisor in 2006. Currently, Cindy is the Client Liaison and utilizes her knowledge to advocate for our patients and owners.
Business Hours:
Monday - Friday: 8:00 AM - 6:00 PM
Saturday: 8:00 AM - 1:00 PM
Sunday: Closed
Technician Visit Hours:
Monday - Friday: 10:00 AM - 4:00 PM, 4:30 PM - 5:30 PM
Saturday: 10:00 AM - 12:00 PM
*Technician visits are unavailable during staff meetings; we will inform owners as to when meetings are when the visits are scheduled.