Trust Guilford Veterinary Hospital
We understand your pets are family, which is why we deliver the same care that your doctors give to you. As dedicated and experienced veterinarians, Guilford Veterinary Hospital provides the highest level of healthcare for your pet.
Based in Guilford, CT, our mission has always been to help your animals live the longest, happiest, and healthiest lives. We offer a range of services that allow you to treat your pet to quality care for any situation.
Animal Care You Can Count On
Whether your pet needs an annual wellness exam, or they are suffering and need immediate surgery, count on our team to take care of them. We use a comprehensive and gentle approach to every service we offer for your pet's maximum comfort. Here are just a few of the services we provide…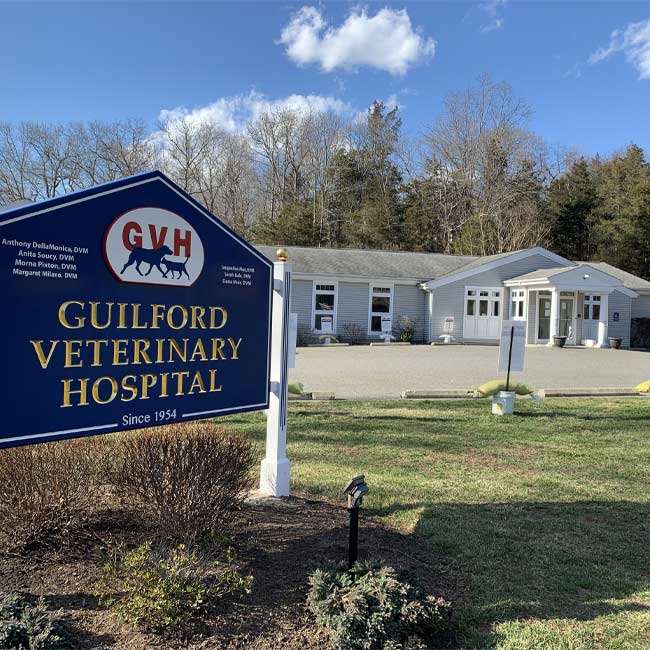 Wellness & Preventative Care Guiding You Through Excellent Pet Care
Our team is determined to deliver exceptional care to our patients and educate their owners as we go. We strive to be a collaborative space that offers everything a pet owner could need for their pets member. Whether you need emergency resources, disease control, or animal products, we are here to help.
Caring For Your Pet As Our Own
We know how much you care about your pets because we care about them too. That is why the Guilford Veterinary Hospital has always done its best to keep your pet healthy. Founded in 1954, our doctors and devoted staff have always prioritized ensuring your pets receive the best veterinary care possible. Accredited by the American Animal Hospital Association, we reassure our high standard of care.
What Patients' Owners Say
"The doctors, technicians, and all the staff are wonderful. They're great with my cat and explain patiently to me about her health."
-Anne M.
"Very well done. The tech was friendly and knowledgeable. Quality doctors and they offer virtually every service you may need."
-Bradley T.
"Great vets. Reasonable prices. And they try to get you on the same day if possible. Highly recommended."
-Kristen J.
"They know what they are doing and love doing it. All the vets and assistants seem to have close relationships with their patients."
-Robert S.
Business Hours:
Monday - Friday: 8:00 AM - 6:00 PM
Saturday: 8:00 AM - 1:00 PM
Sunday: Closed
Technician Visit Hours:
Monday - Friday: 10:00 AM - 4:00 PM, 4:30 PM - 5:30 PM
Saturday: 10:00 AM - 12:00 PM
*Technician visits are unavailable during staff meetings; we will inform owners as to when meetings are when the visits are scheduled.